Now, having known many of you both virtually and in person for some time now, I know without a shadow of a doubt that you are a wonderful bunch of very clever buggers*, with all sorts of weird, wonderful and fascinating facts rattling around in your respective noggins
and it's about time you let them out into the fresh air and present them for the inspection and delectation of your fellow Discworldians and Pratchetteers**
*Is there a collective noun for clever buggers?
**which term, if either, is the most acceptable collective noun*** for Sir Terry Pratchett fans?
***is there a collective noun for collective nouns?
Anyway
, to start thing off:
Did you know . . .
. . . that the feline world has its very own Yeti, or possibly, Abominable Snowcat? The Pallus or Manul cat,
Otocolobus manul
is native to mountainous regions of Central Asia, from the Caspian Sea through Iran, Afghanistan, Pakistan and northern India to central China, Mongolia and southern Russia.
They have the longest and densest fur of any cat and have evolved to live at high altitude and have been recorded at 15,000 feet/5,000 m.
Pallas cats are best adapted to cold arid environments and occupy steppes, alpine deserts and rocky country at fairly high elevations.
About the same size, but slightly heavier, than an average domestic cat, they have a stocky build and short legs so tend to be ambush predators.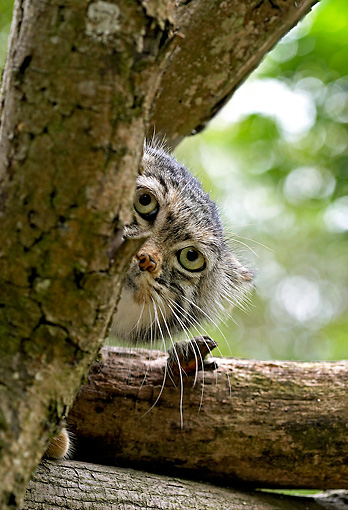 They make their dens in caves, crevices, or burrows dug by other animals.
Like all cats, they enjoy a good snooze . . .
. . . but unlike other cats, their pupils are round and not vertical slits
They are incredibly cute as kittens
And their fur changes colour in the summer becoming more red/brown
BUT these beautiful wild animals . . .
. . . do not do well at low altitude or in captivity, where they are prone to infections and diseases and therefor have a very high mortality rate, which is even worse in their kittens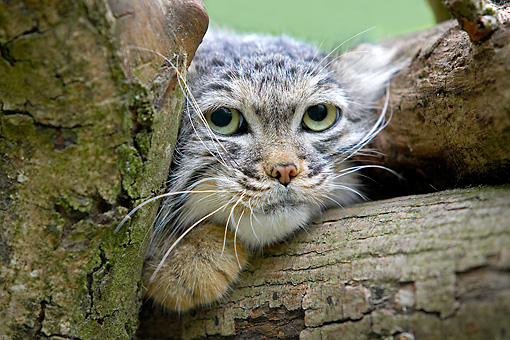 Unfortunately, they are still hunted in the wild for their fur as well as for food, their habitat has been diminished and their main food source, the pika, is frequently poisoned by humans leading to the cats themselves being poisoned. Sadly, they are also trapped and bred for the exotic pet trade.
However, many zoos are part of a captive breeding programme and there are now conservation projects dedicated to protecting Pallas cats in the wild.
Pallas Cat Study and Conservation Program